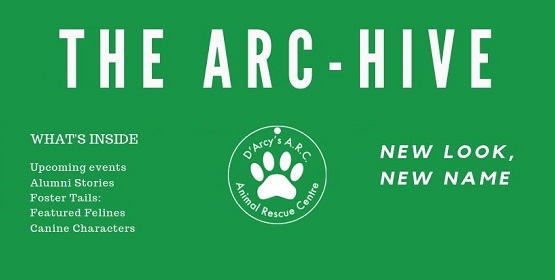 The ARC-HIVE is our monthly publication
Our monthly publication is generated in house and provides a monthly snapshot of what's going on, while also providing news and stories about some of the animals that have found forever homes.
There are several advertising spots on the newsletter, available to our supporters to advertise their own businessess to our readers.
As this publication is a printed newsletter, as well as one sent out through emails, the ARC-HIVE also features a unique QR code that can be used by smartphone users to donate to the shelter through Paypal.
While the newsletter is both a great way to stay up to date with the general events of the shelter, and a great way to see what services our other supporters provide. There are other ways to keep up to date.
Social media, for example, is a great way to see what's going on - with much more specific detail on immediate news. We try to stay up to date on both our Facebook and Instagram accounts, although sometimes the messages don't always get checked as often as we would like.
The other option, while you are on our website, is to check out our Fundraising page. Here we talk more about the events that we have coming up and provide information you may need if you are looking to arrange something on our behalf.

Facebook
One excellent way to keep up to date on the comings and goings at the shelter is to follow us on this social media platform